Float Down the San Marcos River
All About the San Marcos
The San Marcos river is a host to some of the cleanest water you can find, anywhere. The water from its spring-fed source is 10 times cleaner than EPA standards for drinking water!
The usual float is one mile, though it's possible to float longer with a do-it-yourself toobing trip. When you're done, you can make a quick 10 minute walk back to the beginning and toob it again, or catch a shuttle back, operated by the Lions Club of San Marcos.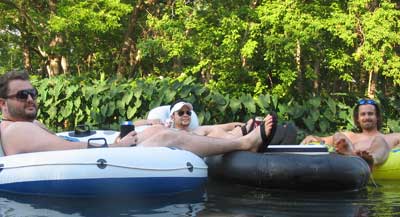 Toobing the San Marcos River
The river is stunningly protected from development. You can toob right through part of Texas State campus, downtown San Marcos, but you'll feel like you're in a nature preserve. Most of toobing part of the river is park land on both sides. Huge elephant ear plants line the banks. A native (and endangered) wild rice grows in the cool, clear waters.
San Marcos River Toobing
If you've never toobed the San Marcos river, you should. It's much like the Comal, but less crowded, and less fuss.
There are plenty of wide easy stretches to the river, and the clarity is great. Spring fed, this short gem was made for floating. The river is a constant 72 degrees.
Click here for tubing access and tubing companies on the San Marcos.