Float Down the Comal in a Tube
All About the Comal
The Comal river is the shortest river in the world. Really! The Comal begins at Comal Springs in Landa Park and flows 2.5 miles (4 km) until its junction with the Guadalupe.
But in a short distance, the Comal is packed with tubing fun. Not a rafting river, this is the amusement park of the Texas rivers. Easy, slow, and not too cold.
The Comal is spring fed, and therefore a constant, comfortable & refreshing 70-72 degrees.
There are plenty of wide easy stretches to the river, and the clarity is great. Spring fed, this short gem was made for floating. The river is a less intensive float compared to the Guadalupe. Besides the single tube chute, there are no other rapids, boulders, or obstacles on the river.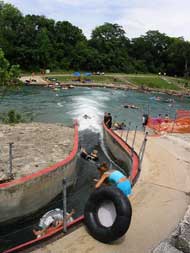 There are adequate outfitters for the Comal, generally located off Common Street in New Braunfels.
In Spanish, comal is a flat griddle used for cooking tortillas, so the name probably refers to the flat area below the bluff where the springs issue forth. The largest and most easily visited spring site is the one just west of Landa Park drive.
See the Comal river tubing companies list here.
See updated Comal river flow conditions here.