Guadalupe Toobing Companies
River Floating and Rafting Trip Outfitters
The Guadalupe has the most outfitters in Texas. There are different, distinct areas of the river to tube — so don't just pull over at the first company you see. Do a little research here!
We Recommend the Following:
Armadillo Tubes
Enjoy the famous "Horseshoe Loop", w/ the 'Dillo! Any Size Coolers OK, Disposable Containers OK, Alcohol OK, Music OK! Short, Medium and Long tube floats. Group Rates, Military Discounts and Free parking and shuttle with tube rental(s). $15 Tubes, $8 Coolers, Ice, Mesh Trash Bags, and T-Shirts. Hot Food & Convenience Store walking distance with Lodging and Camping nearby. 7 Days a week until September!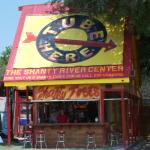 Shanty Tubes
Shanty offers a full lineup of rentals for the Guadalupe. Bottom tubes, no-bottom tubes, cooler tubes, kayaks, canoes, and rafts (2-8 people versions) are on the list.
The most popular run is clearly the Horseshoe, but they offer longer trips of 6-8 hours, as well. Restaurant & Beer Garden located on site. 12100 FM 306, 78133
Full List:
Guadalupe Toobing Outfitters

Shanty Tube Rentals [Email]
12120 FM 306, Canyon Lake, TX 78133
830-964-3990; 830-237-3460
X
X
X
X
Armadillo Tubes [Email]
Intersection of FM 306 & FM 2673, Canyon Lake, TX 78133
830-832-3415
X

Andy's River Toobs [Email]
12020 FM 306, Canyon Lake, TX 78133
830-907-3009

X
X

River Sports Tubes [Email]
Hwy 306 @ FM 2673, Canyon Lake, TX 78133
830-964-2450

X
X
X
White Water Sports
11860 FM 306, Canyon Lake, TX 78132


830-964-3800

X
X
X
X
ROX Tubes [Email]
12159 FM 306, Canyon Lake, TX 78133
830-964-2730
X
X
X
X
X
Rio Raft Company, Inc. [Email]
14130 River Road, New Braunfels, TX 78132
830-964-3613/877-746-7238
X
X
Maricopa Tubes and Camping [Email]
12401 FM 306, Canyon Lake, TX 78133
830-964-3990; 830-964-2222
X
X
X
X

The Original Tube Haus [Email]

12454 FM 306, Canyon Lake, TX 78133

830-964-3011

X
X

Guadalupe's 1st River Outfitter [Email]

653 Scarbourough, Canyon Lake, TX 78133

830-832-3415

X
X

Bezdek's Rentals [Email]
7308 River Road, New Braunfels, TX 78132
830-964-2244

X
X
Armadillo Tubes [Email]
Intersection of FM 306 & FM 2673, Canyon Lake, TX 78133
830-226-7209
X
Gilligan's Island [Email]
9360 River Road, New Braunfels, TX 78132
830-964-2456
X
Good Time Campground [Email]
9300 River Road, New Braunfels, TX 78132
830-964-3790
X
X

Gardo's Camping & Tube Rental [Email]

9440 River Road, New Braunfels, TX 78132

830-964-2205

X
X
Gruene River Company [Email]
1404 Gruene Road, New Braunfels, TX 78130
830-625-2800
X
X
X

Guadalupe Canoe and Camping [Email]

8545 Hwy 281 N., Spring Branch, TX 78070

830-885-7666

Jerry's Rentals [Email]
4970 River Road, New Braunfels, TX 78132
830-625-2036
X
X
X
KL Ranch Camp [Email]
5300 River Road, New Braunfels, TX 78132
830-625-3038
X
X
Lazy L & L Campground
11699 River Road, New Braunfels, TX 78132
830-964-3455
X
X
X
X

Lone Star Float House [Email]
7331 River Road, New Braunfels, TX 78132
830-907-3866

Just after the chute, they have a big party beach selling food and beer.

X
X
X
Riverbank Outfitters [Email]
6000 River Road, New Braunfels, TX 78132
830-625-4928
X
X
X

Amigo Mel's [Email]
1791 Hueco Springs Loop, New Braunfels, TX
830-620-4878

X

Rockin R River Rides [Email]
1405 Gruene Road, New Braunfels, TX 78130
830-629-9999

Many locations.

X
X
X
X
Roy's Rentals [Email]
6530 River Road, New Braunfels, TX 78132
830-708-1241
X
X
X

Steve's Tubes and Camping [Email]

1224 Guadalupe, Lot #1, Canyon Lake, TX 78133

830-964-3990 ; 830-964-2222

Texas River Trips [Email]
1791 Hueco Springs Loop, New Braunfels, TX 78132 -- 830-626-1335
Maricopa River Rides [Email]
12401 FM 306, Canyon Lake, TX 78133
830-964-2222
Potters Creek Store [Email]
2881 Potters Creek, Canyon Lake, TX 78133
830-935-2203

Rainbow Camp [Email]
8690 River Road, New Braunfels, TX 78132
830-964-2227

8195 Hwy 281 N., Spring Branch, TX 78070

830-885-4671

Canoe trips in private areas.

X
X

Guadalupe River Rides [Email]

12400 FM 306, Canyon Lake, TX 78133

830-964-4480

Bigfoot Canoes
120 Mystic Oak, New Braunfels, TX 78132
830-885-7106
Mountain Breeze Campground
201 Mountain Breeze Camp Road, New Braunfels 78132 -- (830) 964-2484
X