Guadalupe Toobing Companies
River Floating and Rafting Trip Outfitters
The Guadalupe has the most outfitters in Texas. There are different, distinct areas of the river to tube — so don't just pull over at the first company you see. Do a little research here!
We Recommend the Following:
Gruene River Company
We outfit in Gruene and take you up river. Many floats including the wild Hueco Falls. We also do rafts, both guided and un-guided. No cooler restrictions on some floats.
Our professional staff will assist you to make your trip with Gruene River Company a pleasant and enjoyable one. Kick back in a tube, raft, or inflatable kayak, for a relaxing, or an exciting trip.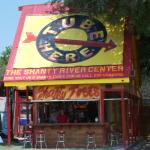 Shanty Tubes
Shanty offers a full lineup of rentals for the Guadalupe. Bottom tubes, no-bottom tubes, cooler tubes, kayaks, canoes, and rafts (2-8 people versions) are on the list.
The most popular run is clearly the Horseshoe, but they offer longer trips of 6-8 hours, as well. Restaurant & Beer Garden located on site. 12100 FM 306, 78133
Full List:
Guadalupe Toobing Outfitters

Shanty Tube Rentals [Email]
12120 FM 306, Canyon Lake, TX 78133
830-964-3990; 830-237-3460
X
X
X
X
Armadillo Tubes [Email]
Intersection of FM 306 & FM 2673, Canyon Lake, TX 78133
830-832-3415
X

Andy's River Toobs [Email]
12020 FM 306, Canyon Lake, TX 78133
830-907-3009

X
X

River Sports Tubes [Email]
Hwy 306 @ FM 2673, Canyon Lake, TX 78133
830-964-2450

X
X
X
White Water Sports
11860 FM 306, Canyon Lake, TX 78132


830-964-3800

X
X
X
X
ROX Tubes [Email]
12159 FM 306, Canyon Lake, TX 78133
830-964-2730
X
X
X
X
X
Rio Raft Company, Inc. [Email]
14130 River Road, New Braunfels, TX 78132
830-964-3613/877-746-7238
X
X
Maricopa Tubes and Camping [Email]
12401 FM 306, Canyon Lake, TX 78133
830-964-3990; 830-964-2222
X
X
X
X

The Original Tube Haus [Email]

12454 FM 306, Canyon Lake, TX 78133

830-964-3011

X
X

Guadalupe's 1st River Outfitter [Email]

653 Scarbourough, Canyon Lake, TX 78133

830-832-3415

X
X

Bezdek's Rentals [Email]
7308 River Road, New Braunfels, TX 78132
830-964-2244

X
X
Armadillo Tubes [Email]
Intersection of FM 306 & FM 2673, Canyon Lake, TX 78133
830-226-7209
X
Gilligan's Island [Email]
9360 River Road, New Braunfels, TX 78132
830-964-2456
X
Good Time Campground [Email]
9300 River Road, New Braunfels, TX 78132
830-964-3790
X
X

Gardo's Camping & Tube Rental [Email]

9440 River Road, New Braunfels, TX 78132

830-964-2205

X
X
Gruene River Company [Email]
1404 Gruene Road, New Braunfels, TX 78130
830-625-2800
X
X
X

Guadalupe Canoe and Camping [Email]

8545 Hwy 281 N., Spring Branch, TX 78070

830-885-7666

Jerry's Rentals [Email]
4970 River Road, New Braunfels, TX 78132
830-625-2036
X
X
X
KL Ranch Camp [Email]
5300 River Road, New Braunfels, TX 78132
830-625-3038
X
X
Lazy L & L Campground
11699 River Road, New Braunfels, TX 78132
830-964-3455
X
X
X
X

Lone Star Float House [Email]
7331 River Road, New Braunfels, TX 78132
830-907-3866

Just after the chute, they have a big party beach selling food and beer.

X
X
X
Riverbank Outfitters [Email]
6000 River Road, New Braunfels, TX 78132
830-625-4928
X
X
X

Amigo Mel's [Email]
1791 Hueco Springs Loop, New Braunfels, TX
830-620-4878

X

Rockin R River Rides [Email]
1405 Gruene Road, New Braunfels, TX 78130
830-629-9999

Many locations.

X
X
X
X
Roy's Rentals [Email]
6530 River Road, New Braunfels, TX 78132
830-708-1241
X
X
X

Steve's Tubes and Camping [Email]

1224 Guadalupe, Lot #1, Canyon Lake, TX 78133

830-964-3990 ; 830-964-2222

Texas River Trips [Email]
1791 Hueco Springs Loop, New Braunfels, TX 78132 -- 830-626-1335
Maricopa River Rides [Email]
12401 FM 306, Canyon Lake, TX 78133
830-964-2222
Potters Creek Store [Email]
2881 Potters Creek, Canyon Lake, TX 78133
830-935-2203

Rainbow Camp [Email]
8690 River Road, New Braunfels, TX 78132
830-964-2227

8195 Hwy 281 N., Spring Branch, TX 78070

830-885-4671

Canoe trips in private areas.

X
X

Guadalupe River Rides [Email]

12400 FM 306, Canyon Lake, TX 78133

830-964-4480

Bigfoot Canoes
120 Mystic Oak, New Braunfels, TX 78132
830-885-7106
Mountain Breeze Campground
201 Mountain Breeze Camp Road, New Braunfels 78132 -- (830) 964-2484
X